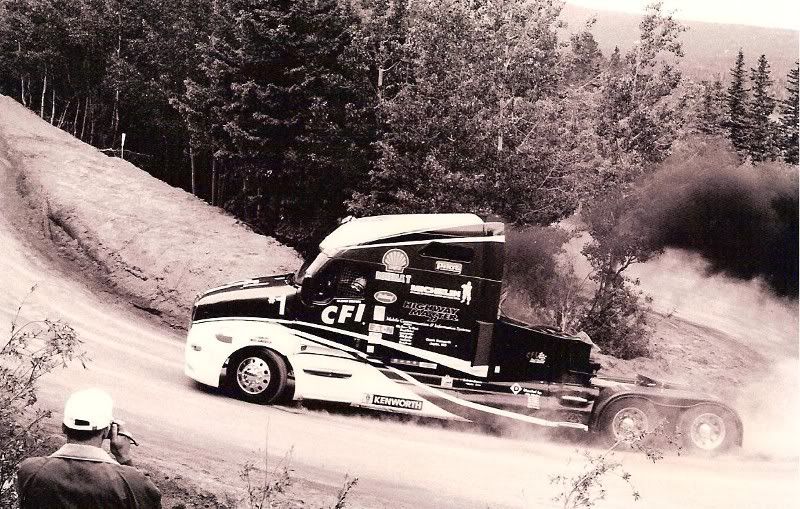 Since my parents are from Colorado, we always made it a tradition to go to the Pikes Peak Hillclimb. In the late '90s, they started an exhibition class for Semi trucks. CFI trucking was one of the first, and they built this truck called the Red Racer to tackle the mountain. Now, to traverse tight, narrow hairpin turns and huge drops, they came up with a full-length, ten-wheel, Conventional sleeper cab Kenworth T2000.
What these pictures don't show is how much the back of it slid sideways going around our spot at Brownbush Corner, how much dirt and thick black smoke it left behind, how much the body of the truck listed in the turn, or the fact that he never let off the throttle taking that turn.
I've been to a lot of different kinds of racing, and seeing and hearing that truck go around there was one of the top five moments I've ever seen. It was completely unexpected, and just heart-stopping. You should have heard everyone cheer and yell once he got by.
So anyway, I worked for the two local NASCAR circle tracks, Lakeside and I-70 Speedways in Kansas City, and one of the things I used to like to do was plan some kind of little sideshow at intermission. We didn't have any budget, so it had to be free.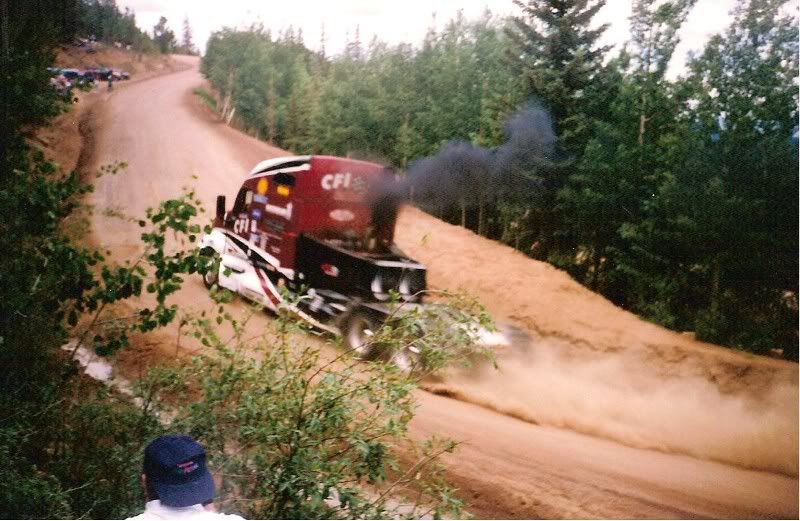 I read somewhere that they were making exhibition passes with the Red Racer at dragstrips. (And by the way, quarter-mile times for this beast were recorded at 13.455-seconds @ 108.24-mph.) CFI was located a few hundred miles away from Kansas City in Joplin, Mo., so I called them to see if they'd come to our stock car tracks. They were more interested in big NHRA shows, but I told them how awesome I thought it was on Pikes Peak and how cool I thought it was, and they agreed to come. Then I was like, can you do something on the track? And they said, oh, we could do a smoke show. I assumed they meant burping that black smoke out of the stacks.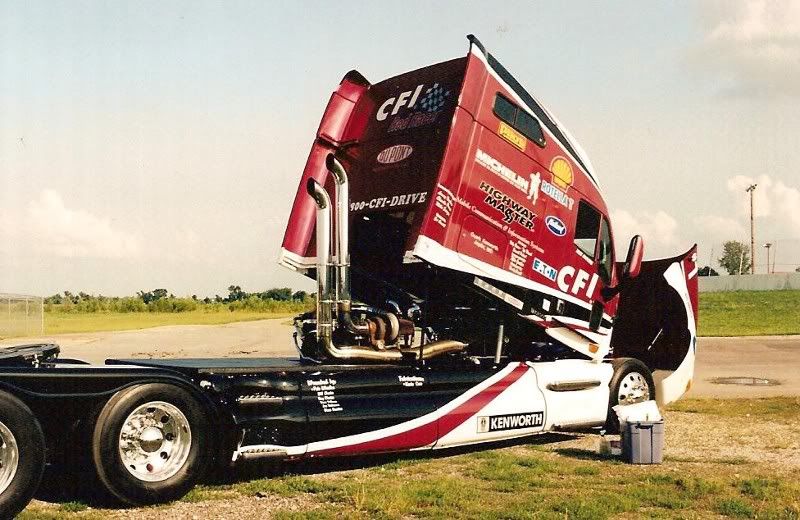 So it shows up one night. The Red Racer is on a custom built low-boy, the CFI muckety-mucks are riding in a matching motor coach.
Under the cab are two Signature 600 Cummins engines. Each motor puts out 1750-hp, and it has three turbochargers. The suspension is all custom built. The frame had to be built up to handle the engines. It had eight custom built drag slicks on it. It's just more awesome than I ever would have guessed. They had guys primping and cleaning on the thing for hours before the races.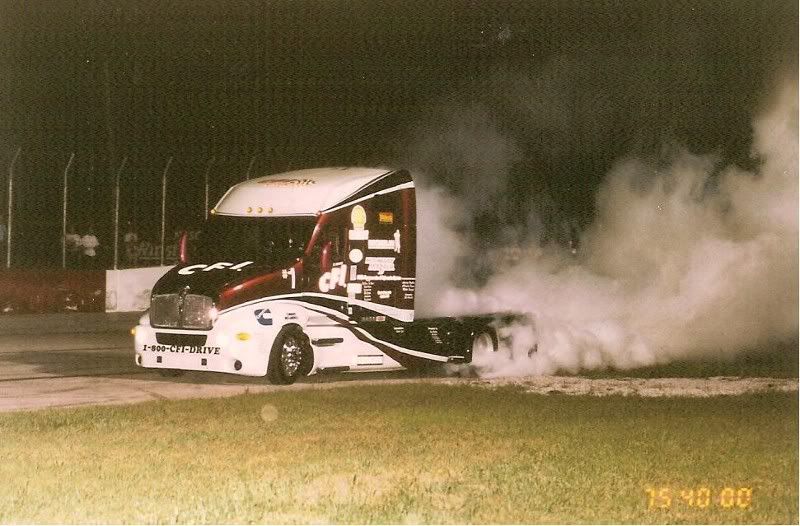 Again, you can't tell from the pictures, but the grandstands were completely engulfed in smoke when they stopped the Red Racer out on the frontstretch and boiled all eight rear tires. There were 3,500 people out there, and you couldn't even see them (the picture shows the far end where not very many people sat). And they went bananas. In all the years I worked out there, I'd never heard them get as excited about anything.
Then he proceeded to make about five fast laps around there, black smoke flying, turbos popping. He literally made smoke rings when he came back through his own tire smoke. It was just so big and fast in the context of that small track, the whole thing was very dramatic.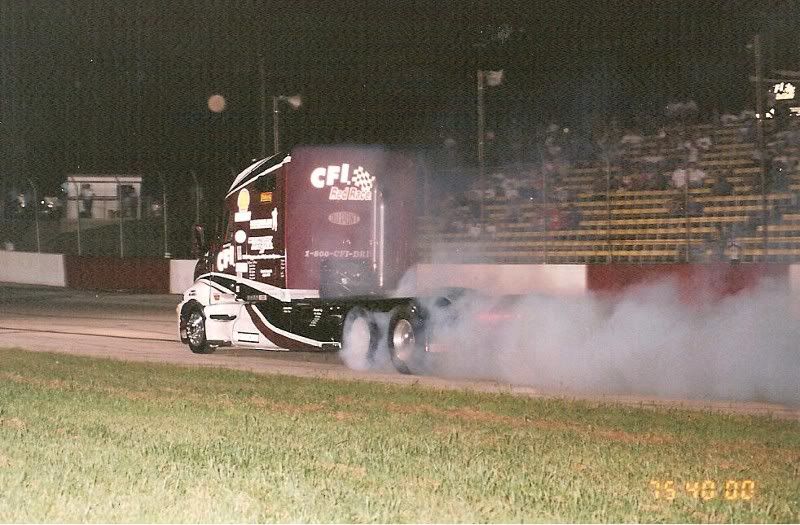 I went over and looked at the track, and there was literally a wall of steaming rubber laid down. I don't mean a skid mark--a two-inch wall of rubber.
I tried to get him back to I-70 a few months later, but the truck wouldn't fit over the bank at the entrance gate without getting high-centered, so he had to just display it.
Still, it's one of those things you never forget.